Two wonderful horror anthologies came out last week; Gutted, and Madhouse. Of the two, I opted for one in print and one digital. The amount of really good, if not truly important, horror books coming out is cost prohibitive at best. Impossible to keep up with at worst. Anthologies offer a dessert platter and these two up the ante by being illustrated. That was the shiny sparkle I loved about being published in Postscripts To Darkness, as having a story illustrated is a near magical and humbling thing for an author. Tied for first with  hearing another person read your work out loud.

Gutted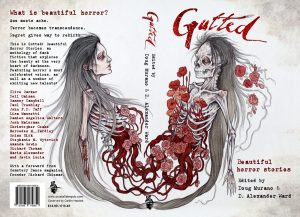 is getting a lot of press. Like, a Lot of press. It has an impressive list of contributors and lovely cover art. I figure is has a lot of traction so I opted for the ebook figuring I may find a print version someday.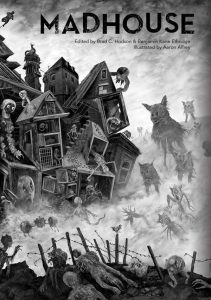 Madhouse, however, has been a lurking quiet release. It's not all over my social media but damn, madness is my wheelhouse so I ordered the print version. With an equally impressive roster of authors, it strikes me as somewhat darker. Since I had such a good time with the John Skipp edited collection 'Psychos', then 'Madness' should push all those same hidden buttons.

There seems to be a real boom at the moment in horror anthologies, not only in submission calls, but in real quality books on shelves. If you've complained in the past of picking up something that only has one gem among coal then these should tap that vein. If not, there is always The Best Horror of the Year where my favourite editor Tobin Elliot (who helped in polishing Nightface and two thirds of Pray Lied Eve) gets a mention for his story in Expiration Date – another fine anthology itself.