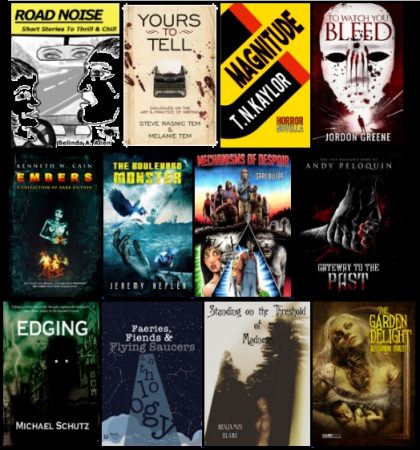 Those in the know, know that I moderate the new releases page on the Horror Writers Association site. If this is news to you, I hope you find that a fun fact! The following post appeared as and addendum to the May version of the newsletter, and I thought I'd post it here for future reference. Perhaps these tips will help you elsewhere, and improve future submission of new work if you are a HWA member!
Novels, collections, and even some how-to reference — from self-published, small press and well known publishers — the Horrific Minds really show the spread we have and the opportunities that writers, editors and authors have taken. On that note, I'd like to make sure everyone gets the same chance to put their best foot forward.
Some tips on posting your new release information
Make sure the links are viable. An author or publisher website is best. If your personal site or blog has a page devoted to your book, that's great too. After that, an amazon link works great and may even be better than a purely informational link – after all, having a direct link where readers can buy your book is the point! The worst are links to facebook posts or tweets. They have a shelf-life, can be blocked due to privacy settings, or even simply turn off readers who dislike or don't use social media.
Having a proper link to your cover image is very important. Not only to make my life easier and save us from having a back and forth over email trying to get an image in place on horror.org, but for potential future use! If your image exists online, you should be able to right-click on it and copy the image URL. This is what we need. Should you have trouble finding a good image there is help to be had from your publisher, other authors, and even the kindle community message boards. Should your image not appear online, you can upload it to image servers like photobucket, imgur, flickr, and even tumblr. The link to the page the image is on is not exactly the right thing – the link should end in .jpg or .png meaning it is the link to the image and not the html or php page.
Keep your blurb 'blurby'. Long summaries are best saved for press releases and your book's website or amazon listing. Here, what works best is something akin to back cover copy. In fact, that should really be exactly what you submit. The shorter version should be a couple sentences since it will be edited down if it is too long.
There may be some changes to the new release form in the future, but these tips should serve you well. If you have questions or input on the form, feel free to send an email to newreleases@horror.org anytime.
As ever, I thank you all for the time taken to submit, and to read these hints! It's all about making your promotional posts the best they can be, especially when everyone gets to see them!
Thank you to all who listed, and please do share these free promotional listings provided to members each month. Make sure to fill out the New Release Form in the Members Only area of the HWA Web site by the 15th of each month to have your future releases posted in Recently Born Of Horrific Minds! I'd love to include every book, but some were released too long ago to count as 'recent', so they may not be listed here, but appear on the 'Members Books' section of horror.org/new-releases-2017/.