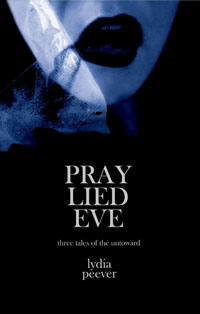 Every day may be Halloween, but when it comes to horror art, every Halloween is so very different.
Sure, I am giving away Pray Lied Eve again this year. Seeing as so many downloaded the three-story collection and raved about it, just as many missed out. So, my stories will be free on Kindle from October 27 to midnight on All Hallows Eve. Of course, if you want them now there are e-books and paperback on Amazon.
There is a Halloween themed story too!
"Kaia is haunted by fingerprints marring the basement door. No matter how hard she scrubs, they return day after day. The only things in the cellar are old Halloween decorations, and she double checks, everyday." – of 'Everyday' featured in Pray Lied Eve.
Now we get to the different part. Last year I was featured on The Wicked Library and again this year, but as a standalone story. As mentioned in the previous post, 'Tapestry' will be read by the extra wicked Nelson Pyles. The show was pushed back a week, but that is okay by me, wanna know why?
Triple Shot! Not only will I be on The Wicked Library, there will be a new Dead As Hell Horror Podcast coming, and from what I gather, the episode after that is a special for the season. I pre-taped a nice little extra for that show about a topic and author very dear to me, so wait and listen for that. Also, Wes and I have shows in the can, and as part of the regular Dead Air horror podcast weekly special right now, one of those sexy beasts is being unleashed.  Rawr.
Three podcasts. All Lydia. Can you dig it like a deep, deep grave?!  I can. Check out Dead Air. In the most recent issue, we talk about 'Macabre' which I suspect only half of you have seen. It was spotted on the Netflix, so add it to your 30 Days Of Horror viewing ~